When it comes to modern day bachelorette parties, matching attire is a must. No longer do the bride and her maids simply follow the traditional white and black dress code, they wear custom coordinating tops too. Besides looking adorable in group photos, these bachelorette party shirts and tanks are a magnet for good times.
Seriously, what better way to score your BFF some free drinks than to announce she's a bride-to-be? Not to mention, they totally save you the hassle of planning yet another outfit . To help you along your search for the perfect pick, we've narrowed it down to our  favorite finds.
Classic Bachelorette Shirts
Whether you're a bride tribe or I do crew, these classic bachelorette party shirts are perfect for those squads who like to keep it simple.
If you're having a destination bachelorette party, but you don't want a t-shirt that is too on the nose, opt for this understated blush shirt. Knot the side and pair with jean shorts or a skirt.
Funny Bachelorette Party Shirts
Looking to make yourselves laugh? These bachelorette shirts are sure to do so… and they'll probably even score you some free drinks along the way.
As if you'd go with any t-shirt other than this one if you and your crew are big Clueless fans! Plus, the super fun neon colors will really pop in all those selfies.
Destination Bachelorette T-Shirts
These destination bachelorette shirts are perfect for any squad who wants their wear to be all about the where (get it!?)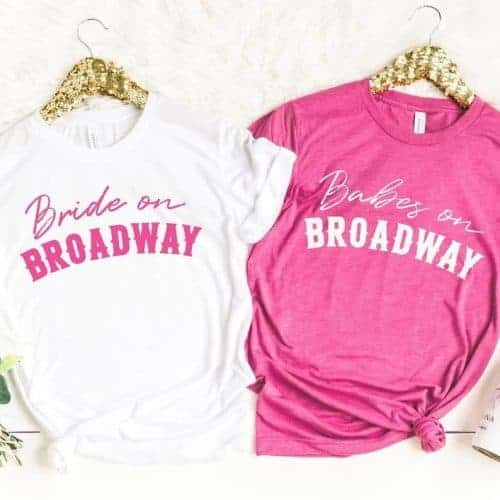 Country Bachelorette Party Shirts
Heading off to your bride's last ride? Make sure you pair your cowgirl boots with one of these super cute country-themed tops.
Rose Gold Label Wifey and Besties Shirts
We love these whimsical and cheery colorful t-shirts that would be right at home at any bachelorette venue from wine country to a backyard bash to brunch at your favorite restaurant.
Mod Party Brides and Babes T-Shirts
These t-shirts are perfect for the bride who loves details like feminine fonts and heart motifs. These sweet tees could easily be tucked into a long flowy skirt or a pair of jeans.
Bespoke Bridal Studio Rock On T-Shirt
Headed to a rock concert for your bachelorette party or just not into some of the traditional styles out there? We've got a t-shirt for that too!
Poppy Love Petal Bride Gang Shirts
If you're looking for something a little less over the top then opt for shirts in muted colors with minimal text. These shirts from Poppy Love Petal feel at once celebratory and laidback.